Regular price
Sale price
$19.00 USD
Unit price
$760.00
per
kg
Sale
Sold out
Illusya stray hair / hair fibers. Full hair again in a few seconds. Immediate effect immediately after application. Hair thickening in 12 natural colors.
If you are not sure about the color, use our free color service directly in the menu bar.
First choose your color and then put it in the shopping cart with one click.
The shopping cart takes you to the checkout where you can complete the purchase.
30 Tage testen

Kostenlose Rückgabe

Gratis Lieferung ab 30€
Inhaltsstoffe

Gossypium Herbaceum Fibers (Baumwollfasern), Minieral-based Colorants, Cetrimonium Chloride, Silica, Dmdm Hydantoin
Anwendung

Vorbereiten

Bitte verwende das Streuhaar nur auf trockenem Haar! Style zuerst Dein Haar in gewohnter Form.

Auftragen

Durch leichtes Klopfen auf die Dose im ca. 45° Winkel, trage das Streuhaar auf die gewünschten Stellen auf.

Verteilen

Es empfiehlt sich das Streuhaar mit der Handoberfläche oder mit einer Haarbürste auf dem Haar zu verteilen.

Fixieren

Um das Streuhaar wind- und regenfest zu fixieren, empfehlen wir Deine Frisur mit ILLUSYA Fixier-Spray zu versiegeln.
View full details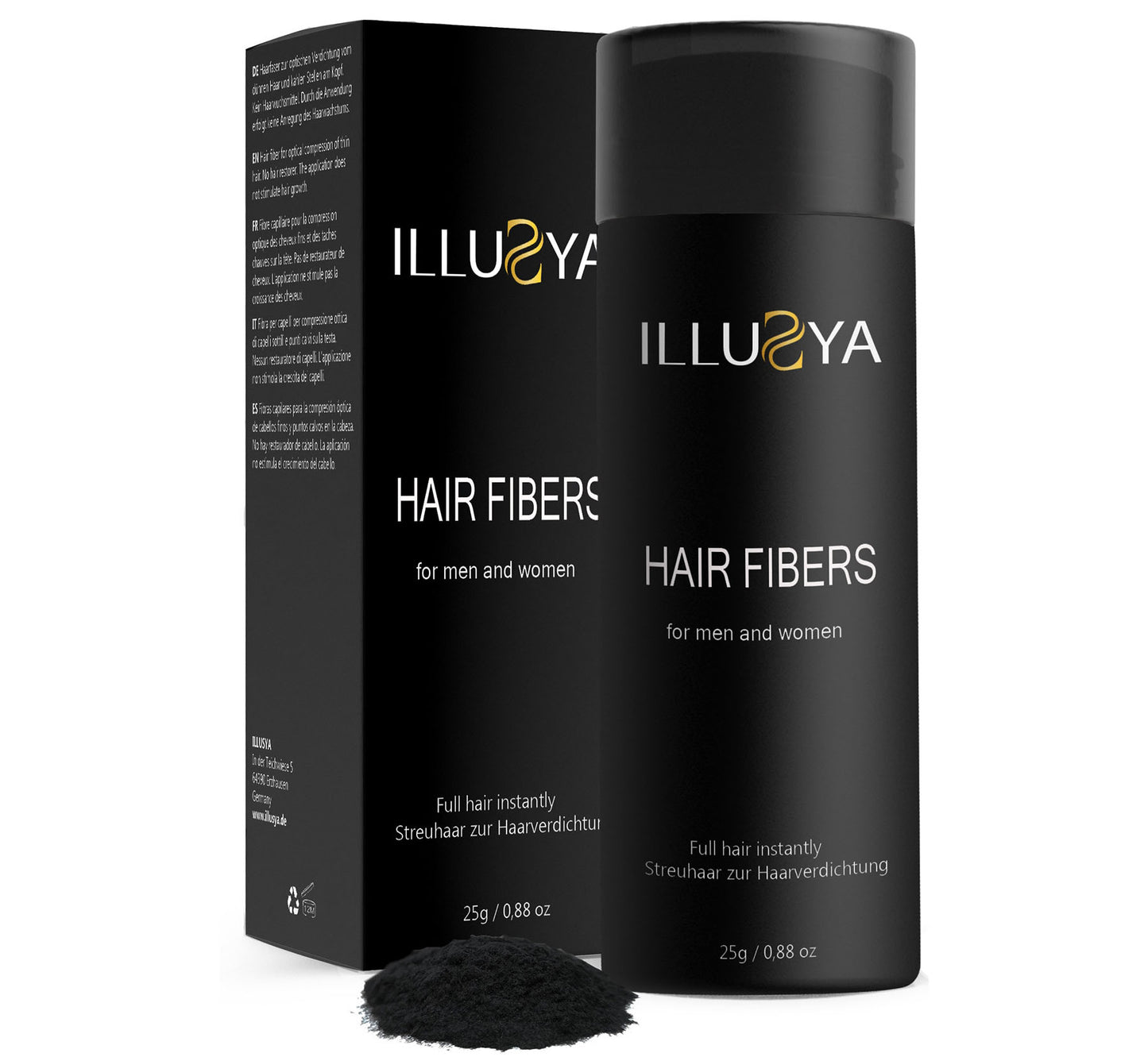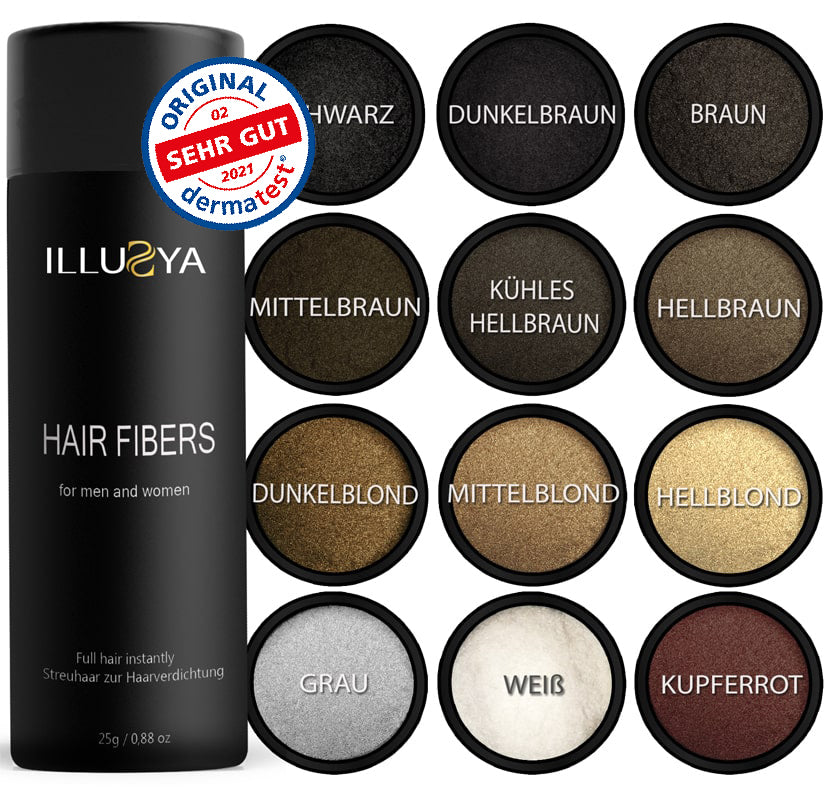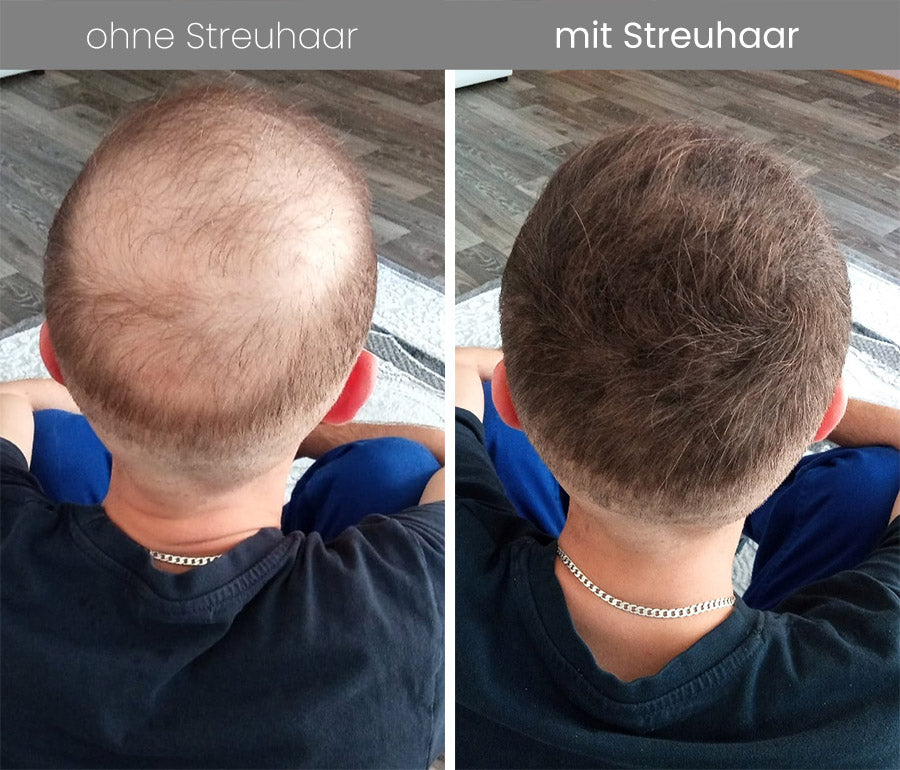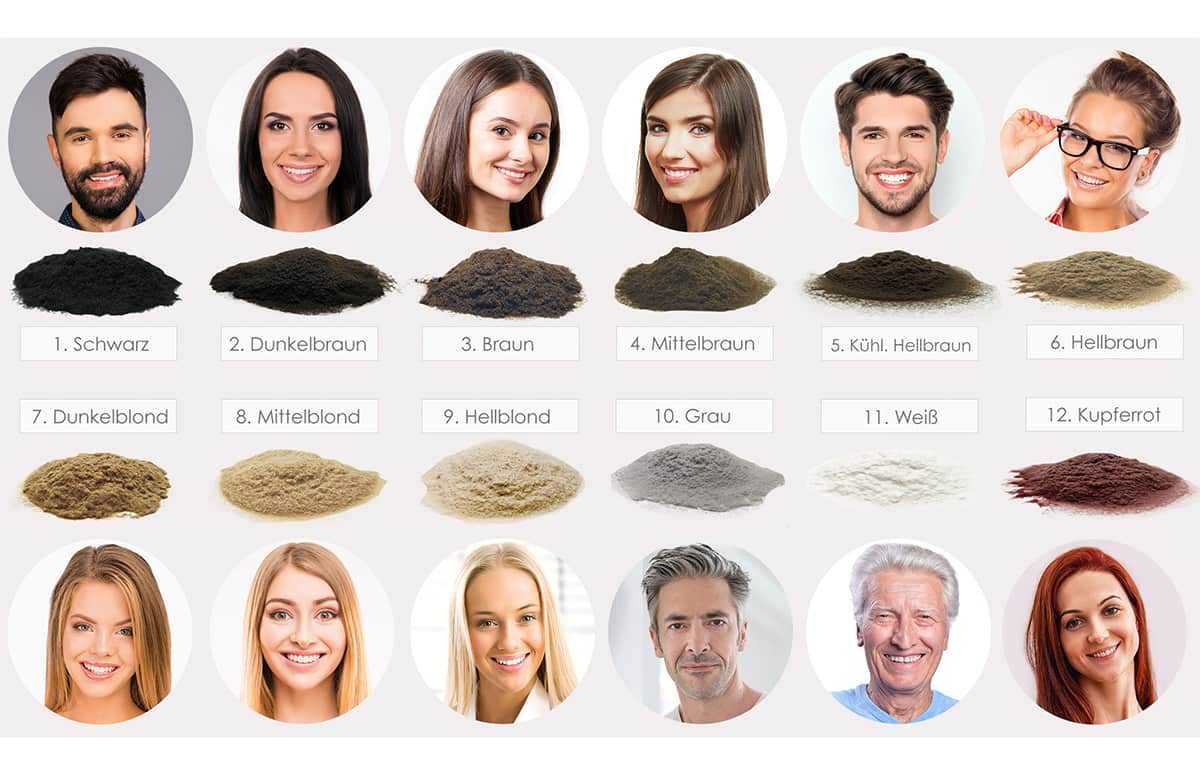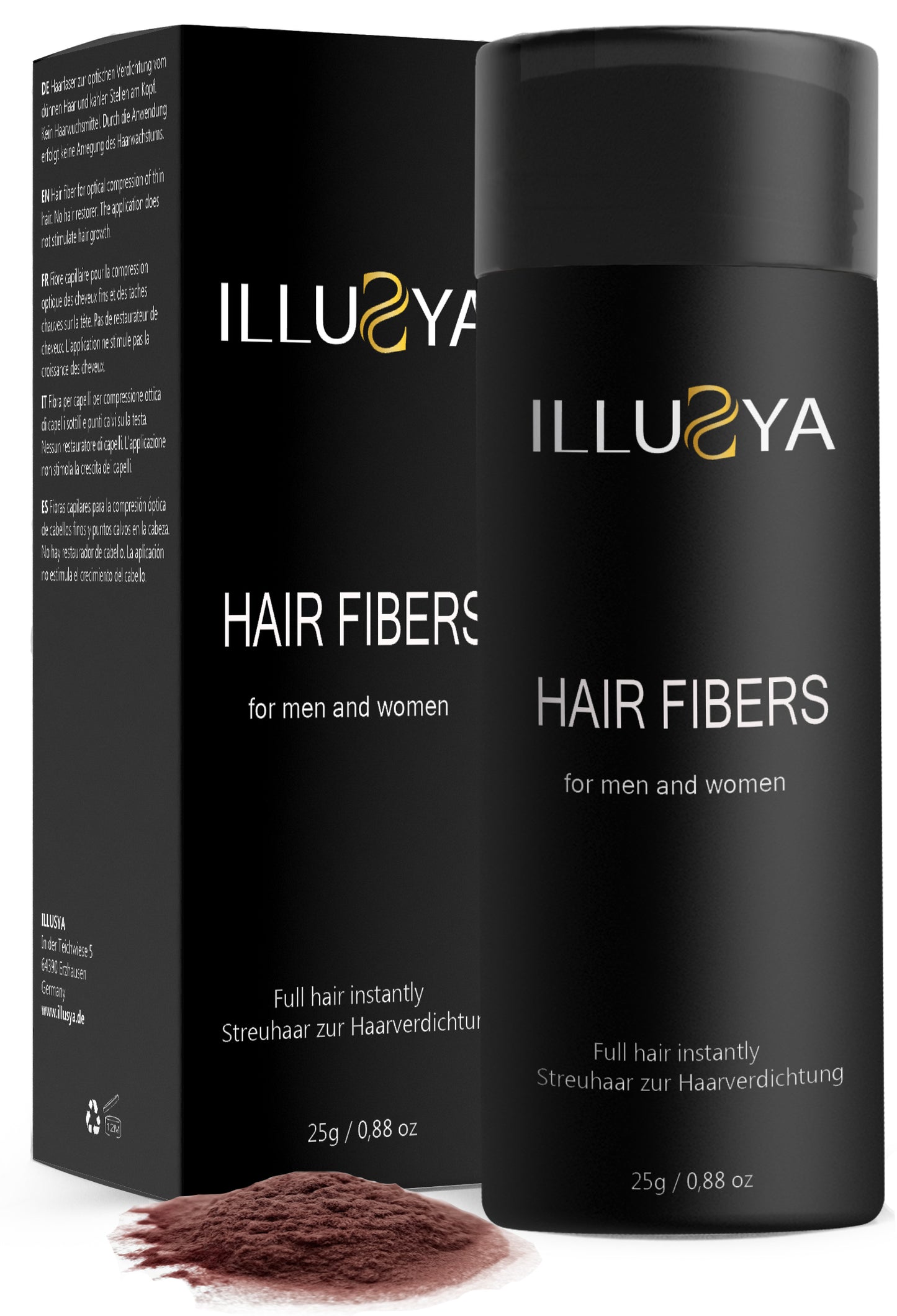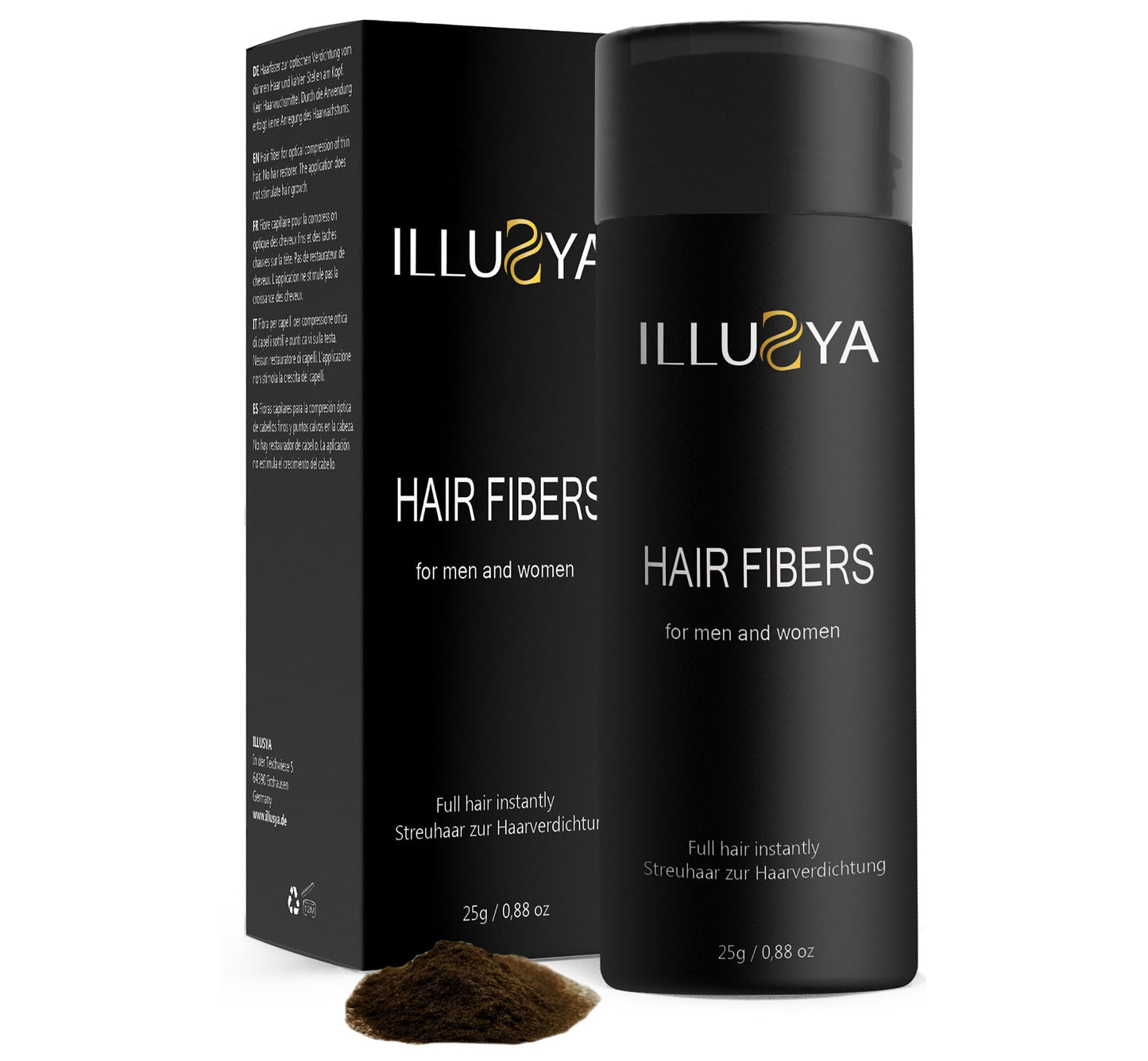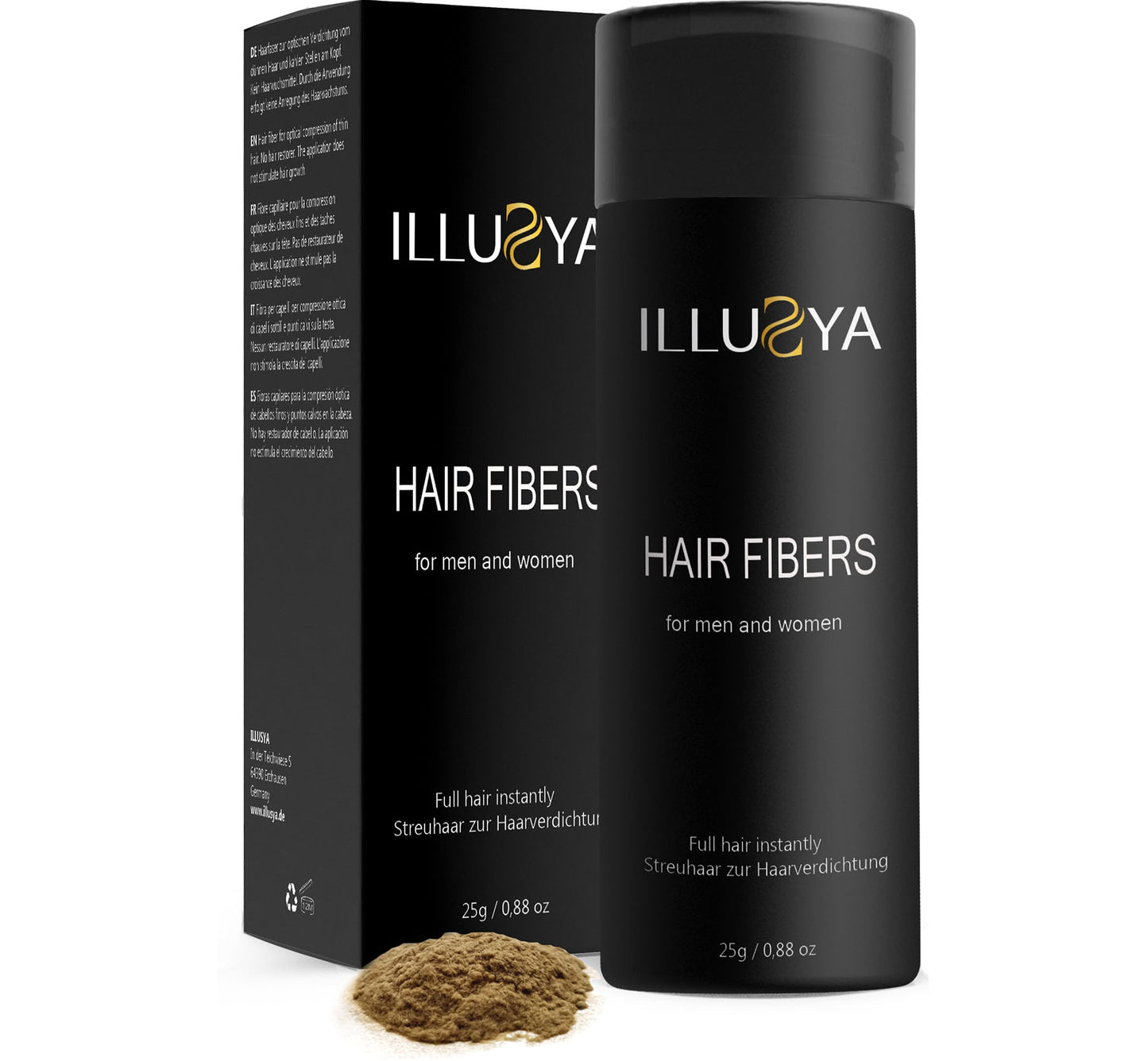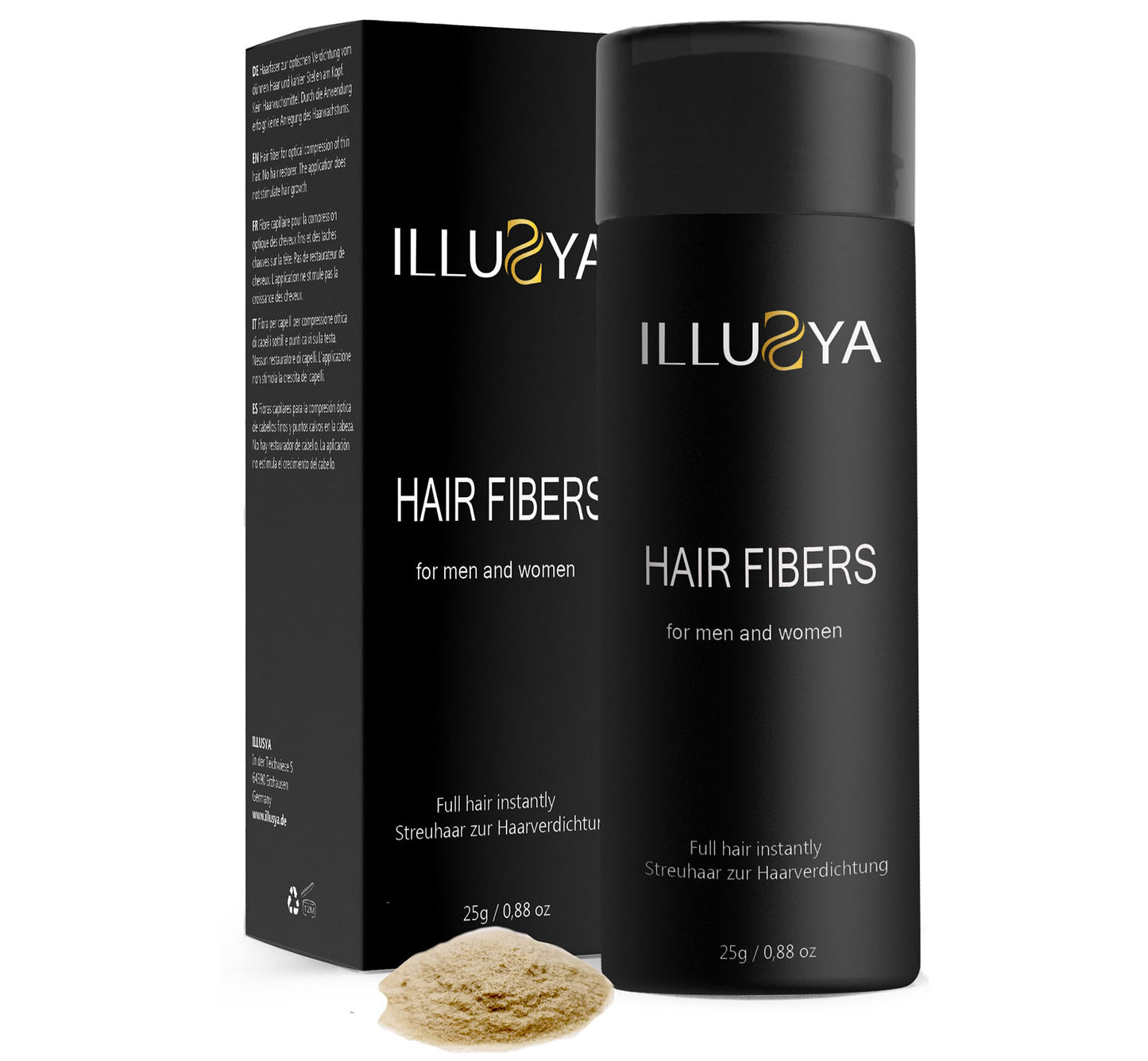 Deine Vorteile:

Sofortiges Volumen: Streuhaar bietet dir die Möglichkeit, deinem Haar sofort mehr Volumen und Fülle zu verleihen. Es ist erstaunlich, wie einfach du dünner werdendes Haar oder kahle Stellen optisch auffüllen kannst, um ein volleres und prachtvolleres Haar zu erreichen.
Einfache Anwendung: Die Anwendung von Streuhaar ist kinderleicht. Mit nur wenigen Handgriffen kannst du die feinen Haarfasern auf die gewünschten Stellen auftragen und sie mit deinem eigenen Haar verblenden. Das bedeutet, dass du nicht viel Zeit und Aufwand investieren musst, um fantastische Ergebnisse zu erzielen.
Natürliches Aussehen: Die Haarfasern in Streuhaar sind speziell entwickelt, um sich nahtlos mit Deinem eigenen Haar zu verbinden und ein natürliches Aussehen zu erzielen. Dadurch entsteht der Eindruck von dichterem Haar, ohne dass es offensichtlich wirkt oder jemandem auffällt, dass du Haarfasern verwendest.
Vielfältige Farbauswahl: Streuhaar ist in verschiedenen Farboptionen erhältlich, um sicherzustellen, dass du die perfekte Farbe für dein Haar auswählen kannst. So kannst du sicher sein, dass das Streuhaar harmonisch mit deiner natürlichen Haarfarbe verschmilzt und ein authentisches Erscheinungsbild erzeugt.
Selbstbewusstsein und Wohlbefinden: Streuhaar kann dir dabei helfen, dein Selbstbewusstsein zu stärken und dich wohler in deiner eigenen Haut fühlen zu lassen. Das Gefühl, mit vollem Haar und einem selbstsicheren Auftritt durch den Tag zu gehen, kann einen erheblichen Einfluss auf dein Wohlbefinden haben und dir ein positives Gefühl vermitteln.
Absolute Empfehlung!!
Ich habe schon oft bestellt und bin absolut zufrieden. Das Schütthaar deckt fantastisch ab und sieht natürlich aus. Die Farbe passt auch perfekt und einen Regenguss hält sie auch mal aus.
Bin heilfroh, dass es das Produkt gibt.
Wrong delivery, retour products, no credit not nor new delivery (invoice-202337835, order1104)
I have ordered 5 pieces of white , received 5 pieces of black. Retour shipment to illusya . Wrote an email. Didn't receive any response whatsoever ever. Please send profits or return €101,40. Kindest regards, Dr JCH Martens
Wundermittel
Was wäre mein lichtes Haar ohne Schütthaar. Vielen Dank für das tolle Produkt.
Top!
Klasse Produkt
Super Streuhaar, benutze ich schon seit 2 Jahren